12pm-4pm
Booking essential via email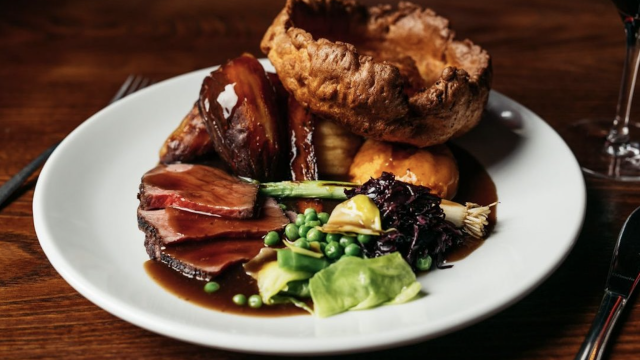 Spend quality time with family and friends at our fabulous traditional Sunday Lunch.
Take a stroll through our lovely grounds, it's just the perfect way to make Sunday feel special.
---
Sunday Lunch Menu
2 courses £17    3 courses £23
-Starters-
Sautéed wild mushrooms (v)
in a creamy garlic sauce on toasted ciabatta
Leek & potato (v) 
Fresh baked bread & butter
Chicken liver, brandy & bacon pate
Plum chutney & toasted ciabatta
Fresh water cray fish cocktail
Marie rose, baby gem, brown bread & butter
-Main Course-
All of our roasts are served with roast potatoes, honey roasted carrots & parsnips, broccoli, homemade Yorkshire pudding & gravy
Roast sirloin of British beef
Roast loin of Pork & crackling
Sage & onion stuffing
Half roast chicken
Sage & onion stuffing
Large roast – roast sirloin of beef & loin of pork (£4.5 supplement)
TWO Yorkshire puddings & Sage & onion stuffing
Carrot, cashew & spiced marmalade wellington (v)
Sage & onion stuffing
Pan seared Sea bass
Sautéed new potatoes with baby spinach & cherry tomatoes, lemon & dill sauce
Added extras – Cauliflower cheese £3 – Crispy roast potatoes £2.5
– Homemade Yorkshire pudding £1
-Dessert-
Tart au citron
Raspberry sorbet
Rocky road cheesecake
Vanilla ice cream
Sticky toffee pudding
English custard
To book a table please email
brooksbyhall@brooksbymelton.ac.uk
Book a table from 2 – 20 people
(bookings for 10 or over require a pre order).
---